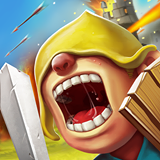 What is Clash of Lords 2
Clash of Lords 2 is a real time strategy game in which players control different types of heroes, manage a city full of defenses, and, of course, battle enemy groups.

In Clash of Lords 2, the game mechanics are divided into two very different parts. In the first part, players have to create a strong defense system to protect their city, which includes choosing a hero to defend it. You can order your heroes to attack other cities in seconds.
Video Clash of Lords 2 Game Review
ame Features:
✔ Take Charge in Clash of Lords 2! Real-time command of your Heroes' battle skills. More Power = More Fun!
✔ Mercenary Mania! Pair Heroes and Troops in Clash of Lords 2 to form invincible teams with the all-new Mercenary mode!
✔ Exhilarating & Easy-to-Play! Training troops is a thing of the past! Get into the heat of battle faster than ever with Clash of Lords 2!
✔ The Wild Bunch Are Here in Clash of Lords 2! Choose from a cavalcade of Heroes each with unique skills and abilities!
✔ Play Your Way in Clash of Lords 2! Six battle modes of non-stop action. Master the Lords League, Resource Raids, Solo Campaigns, Hero Arena, Campaign Clash, and Battle Royale to reign supreme!
✔ Guild Camaraderie! Rally your friends for more thrills and spills in Clash of Lords 2 Guilds!
✔ Free to Play! Log in to Clash of Lords 2 every day to recruit free Heroes and win free Jewels!
More
Hide